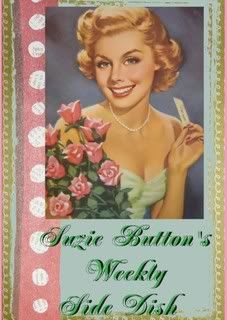 Well, here is my late, late "Suzie Button's Side Dish" segment. Sorry for the slow week, I'm having trouble getting over this bout of illness here.
ANYWAYS, I captioned an interesting story about PLARN! I had NO idea what Plarn was, but I found it fascinating, so if it's also a new term for you, you might find it interesting also, I figured! Plarn is yarn made out of recycled plastic bags! You can knit and crochet with it. You can help save the earth AND be crafty at the same time! You could make this...
pretty dishcloth with the directions at
My Recycled Bags website
Or how about this adorable little sling bag...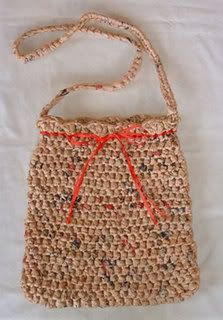 with the directions
HERE
To get you started I have a YouTube video that is simple and straightforward below!
I think I'll try this when I feel better and finish up a couple other crafts I'm behind on, namely, the baby bedding in the works for my upcoming Granddaughter's birth in April!
If you make something with Plarn, please let me know, I'd love to see your creations! Suzie