I rise early on Sunday mornings and had a chance to watch this movie on cable...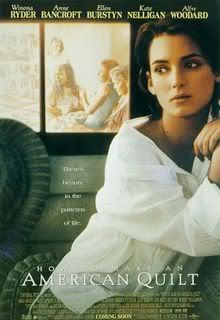 I'm not sure how I never saw it before now! It came out in 1995. It was perfect for a Sunday movie, with the setting of the story being several women and their stories as they are in a quilting bee to construct a wedding quilt as a gift for a Granddaughter (Winona Ryder). My mother used to be part of a quilting bee with our church when I was growing up, I wish I had the time to also pursue such endeavors!
Please enjoy the YouTube video of music from the movie...
And you can watch the Trailer clip from the movie, enjoy!
How to make an American Quilt
Happy Monday! Suzie