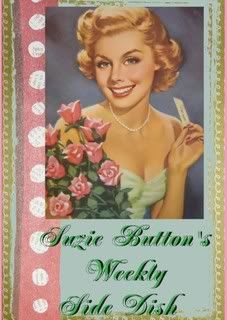 RUN!! That's what I'd do, can you outrun snakes?!! I hate snakes, I believe more than any other scary reptile out there, oh, ok, really I don't like reptiles, rodents, slimy, big teethed anything type of animals!
Look at this artist's rendition...
This HUGE fella's name is Titanoba, and he was 13 meters or that's 42 feet long!
Well, he lived in what I imagine to be a beautiful rainforest in Colombia... 50 or 60
MILLION years ago! AND he weighed they estimate a TON!!
Just to give you a visual, one quote said "At its greatest width, the snake would have come up to about your hips. The size is pretty amazing."
This fossil picture is comparing the size of a vertebra from and Anaconda on the LEFT to our cute fella Titanoboa on the RIGHT!
Now, I know, this doesn't seem so sweet as Suzie Button usually is, but it IS interesting, right?!!
If you want to hear the FULL story, click on the
SNAKE NEWS STORY HERE
and be prepared to be amazed and glad you didn't live 50 or 60 million years ago! Ha! Happy Side Dish! Suzie