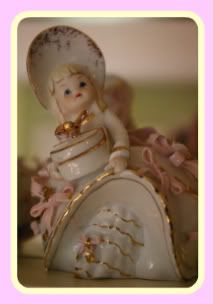 Hi, friends! Welcome to another beautiful Pink Saturday, thanks to our lovely host
Beverly at How Sweet the Sound
!
I thought I'd share today closeups of my collection of Lefton Bloomer Girls today.
I gave the girls a "bath" last night to dust them off so they'd be pretty and shiny for you this Pink Saturday!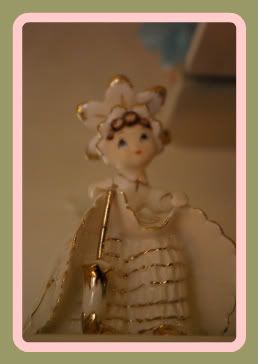 Here's a bit of the History of the Lefton Company for you as you scroll through...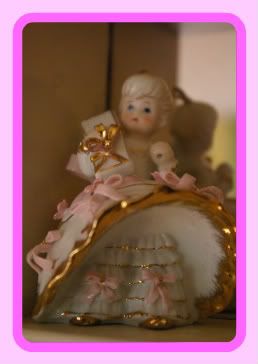 The Lefton Company was founded in 1941 by Hungarian immigrant George Lefton who arrived in Chicago in 1939 with a business vision and passion for collecting fine porcelain. Although his background lay in marketing and designing specialty clothing, Lefton embarked on a career change with a ceramics business plan.
In 1945, Lefton was among the first to travel to Occupied Japan to seal an importing agreement. The first Lefton china product with a "Made In Occupied Japan" understamp reached Americans in 1946. Today the Lefton Company imports over 500 item SKUs annually which can be found in over 10,000 retail shops nationwide. Many of the vintage collectibles you find at antiques stores and estate sales are ceramic Lefton collectibles.
Aren't they just gorgeous?! I display them in a mirrored shelf above my fireplace and really enjoy just sitting a while to look at them in the evenings...
They really represent my "style," very feminine, of another era in design, and soft pastel colorings, plus I love shiny glazes on figurines, I like when the light hits it and it just glows!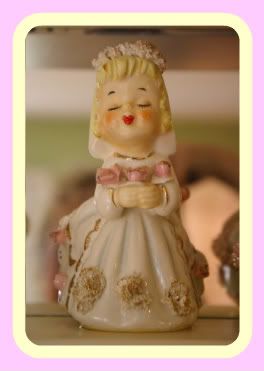 The bride bloomer girl above is one of my favorites! I collect vintage bride and groom cake toppers also and to find both a bloomer girl AND a bride made my heart race!
My daughter Megan started her FIRST blog today! I showed her the "ropes" and hopefully she'll have as much fun blogging as I do! If you have a chance please visit her at
Miss Madison's Charmed Life
Happy Pink Saturday!