Since my daughter Megan had a baby almost three months ago and since I really needed a boost to work on my weight issues, we decided to tackle Weight Watchers together!
I've "done" Weight Watchers in the past, once I lost 35 pounds when I was 27 years old and became then a size 8 for years! But then again, I worked out constantly and chased children all day back then.
Now my job involves sitting and typing on tiny keys as a broadcast captioner for hours and I'm getting older, so I'm, well, not as active as I once was!
I remember trying to cook healthier and eat out less on the plan before was VERY hard many days, but this time it's so much easier because I'm doing it with a supportive daughter and she's the BOMB when it comes to great lowfat, low point, recipes! Like this one....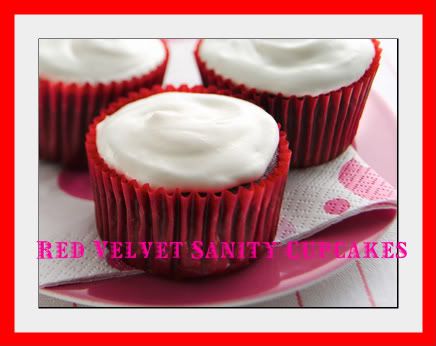 YUMMY! I thought starting with dessert was the BEST place to start, don't you agree?!
AND each cupcake is only 3 points!!! Plus they're VERY moist and the icing is fantastic!
Here's the recipe...
RED VELVET SANITY CUPCAKES
1 C. MOIST STYLE DEVIL'S FOOD CAKE MIX
1 C. MOIST STYLE YELLOW FOOD CAKE MIX
2 (25 CAL) PACKETS HOT COCOA MIX
½ CUP LIQUID EGG SUBSTITUTE ( I USED EGG WHITES VERSION)
¼ CUP MINI SEMI SWEET CHOCOLATE CHIPS
1 TABLESPOON RED FOOD COLORING
1 TEASPOON SPLENDA
1/8 TEASPOON SALT
ICING --
6 TB. JET PUFF MARSHMALLOW CREME
6 TB. COOL WHIP FREE
¼ CUP FAT FREE CREME CHEESE ROOM TEMP
1 TB SPLENDA
PREHEAT OVEN TO 350. IN A MEDIUM BLOW COMBINE ALL FROSTING INGREDIENTS EXCEPT FOR COOL WHIP UNTIL MIXED WELL AND THEN FOLD IN COOL WHIP AND FRIDGE UNTIL YOU FROST
IN A TALL GLASS PLACE ½ OF CHOC CHIPS AND CONTENTS OF BOTH COCOA PACKETS AND ADD ½ CUP BOILING WATER AND STIR UNTIL CHIPS AND COCOA ARE DISSOLVED.
ADD 1 CUP OF COLD WATER TO IT AND MIX UP
POUR COCOA INTO LARGE MIXING BOWL AND ADD CAKE MIX, EGG SUBSTITUTE, AND REMAINING CHOC CHIPS AND FOOD COLORING, SPLENDA AND SALT, THEN WHISK FOR 2 MIN UNTIL SMOOTH. BATTER WILL BE THIN, NO WORRY, CUPCAKES PUFF UP WHEN BAKED.
LINE A 12 CUP MUFFIN PAN, SPREAD OUT EVENLY AND BAKE FOR 15-20 MIN.
CUPCAKES WILL LOOK SHINY WHEN DONE, ALLOW TO COOL AND FROST.
Oh, the recipe is from
Hungry Girl 200 under 200 book
available at Wal-Mart or online! DELISH!
Tomorrow is weigh-in at the meeting, in our first week I lost 4.2 lbs and Megan lost 6!! I really love having such a wonderful daughter!