It's slow going on the craft front here! I am still cutting out my doll pieces, and do you see the peek of a crown in the picture?! That's part of my NEXT craft I have to get going on in a hurry here for the
Paper Cowgirl Art Retreat
on June 27th!
I had a "vision" of the cowgirl crown for my swap partner though last night before I fell asleep. That's when I get my best ideas, right before I fall asleep. You too?
Plus there's two more swaps for that event too to get together. YIKES!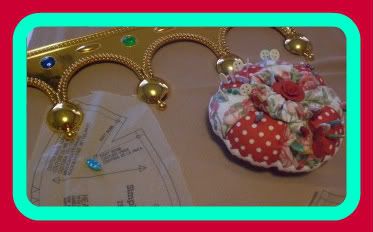 Say a little craft prayer for Suzie Button, ok?! Smiles...
Oh, BTW, if you LOVE my pincushion (as much as I do!) you can get your own here at
She's Sew Pretty Etsy site
Mine was a gift in a swap. SO CUTE!!