SUNDAY IS MY DAUGHTER'S BABY SHOWER, AND MY GIRLFRIEND GAIL AND I SPENT FRIDAY MAKING SOAPS, LOTS OF THEM, FOR FAVORS!! IT WAS A LOT OF FUN!
PINK BOTTLES...
DUCKIES, RATTLES, AND BEARS! THIS LITTLE BEAR HAD A BOO-BOO AND NEEDED A NEW LEG, SO WE STITCHED HIM BACK TOGETHER :>)
HERE'S ONE PLATE OF THE SOAPS...(the tan color is actually in reality a pretty tangerine, my camera didn't capture that!)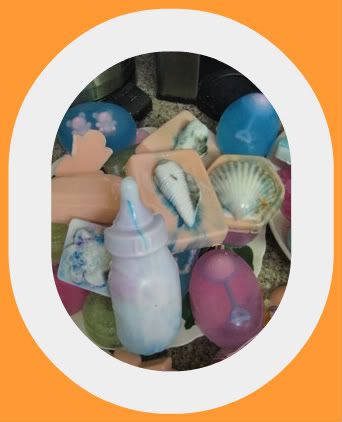 AND ANOTHER! NOW ALL I NEED TO DO IS BAG THEM UP AND PUT THEM IN A PRETTY BASKET!
GOOD CLEAN FUN! HAPPY SATURDAY, FRIENDS! SUZIE