Hi, bloggie friends! Is it just me, or is this summer just flying past?! I cannot believe that it's already July 4th! I live in Dallas, TX, so it's HOT, HOT here! You open the door at 8 a.m. and the heat just smacks you in the face!
I hope you're having a beautiful sunny fourth!
Here's MY fireworks this year...
AND THEY'RE PINK!!!
SAD, SAD news is that my town of Garland CANCELLED all the fourth fireworks and the whole shebang, the booths, crafts, rides, DARNED recession! I usually never had to leave my house, I could see the fireworks from my yard...Here's to hoping next July fourth is a different story for our economy!
But all of this isn't really what my posting for Pink Saturday is all about...
I wanted to share some pictures from my dear friend Debie who is what us group of girlfriends call our "world traveller."
Here's Debie...(with some really patriotic guy!)
The Fourth of July is Debie's FAVORITE Holiday...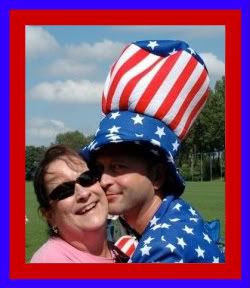 Debie is from Texas originally and she moved to the Netherlands to work at the Hague several years ago and travelled all over Europe while living there, and now Debie is working as a court reporter in Japan!
I wanted to show you some pictures Debie posted on her Facebook of, well, vending machines in Japan! This is not ALL pink, but there's pink in there!
Sounds kinda weird, huh? But Debie says that the Japanese are crazy for vending machines! I made a slideshow of them to show you, notice that you can buy just about ANYTHING there in a vending machine, ice cream, ties, batteries, MP3 Players, cup-a-noodle... and don't you LOVE the "Still Broking Down" sign?!
Debie really has some amazing pictures from all her travels and now that she's agreed to let me post about her whenever I feel, I'll have to share other sights from around the world, according to Debie's viewpoint, with you on another Pink Saturday!
Until Then, Happy Fourth to all of you, and make sure to visit all the Pink Saturday friends at
Beverly at How Sweet the Sound
and Love, Hugs and Kisses from...