Here I am again with another class to share with you!
This class was a Shadowbox Memory Box and each "student" was asked to bring memorbilia to use to make their box significant to them.
I chose a vintage birthday card that I had from some cards that were left in my mom's collection after she passed away. It actually was meant for one of my nieces because I recognize my handwriting as the signatures for myself, and my siblings...
I love the look of these cards, and now I can actually enjoy the card since I have now hung my little "treasure" box up in my office/craft room!
Obviously, I was still trying to figure out how to spell my sister's name "Connie"
And my Cowgirl Friends also took the class wit me...
Here is my friend Gail's piece, these are her Grandmother "Boots" glasses, what a great idea for a memory box!
And my Cowgirl Friend Shannon's box...a tribute to a summer swimming day with her sister...
And here a few more from fellow students...
A tribute to a special dog...
The Raggedy Ann and Andy were from her mobile as a baby!
And a Faith inspired box..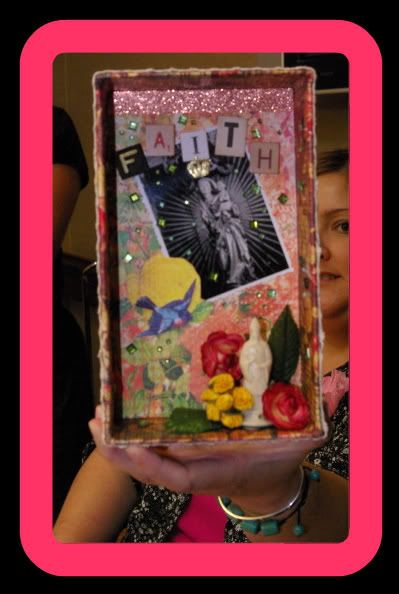 What fun!