My plans this morning changed instantly when I realized my new baby Ollie, wasn't feeling well at all!
We had to take a trip to the vet...
Poor baby is ill, but with a shot and some pills, he'll be better soon!
He had a good Fourth of July weekend, swimming with Cody (my other English Springer Spaniel) and the family...
Ollie's already quite the little swimmer!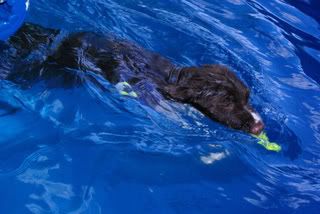 I had forgot how adorable and how much WORK having a puppy in the house can be!