bliss (bls)
n.
1. Extreme happiness; ecstasy.
2. The ecstasy of salvation; spiritual joy.
Phrasal Verb:
bliss out Slang
To go into a state of ecstasy.
Yes, today is a special day! First, it's the
Blogging for Bliss Party
today! What fun!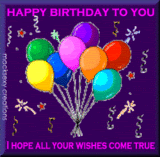 PLUS, it's my Birthday! Yeah! (singing happy birthday to myself while blogging :>)
Let's skip how old I might be, and just skip to the party part, ok?!
My Birthday is one reason why I love blogging and is not something that I had as a reason to begin blogging originally, but it is a bonus to have birthday wishes from my blogging friends that I've met and will meet in the future.
As a party-goer, I'd like to share how I came to be in "Blogging Bliss."
It began here...
I shared these in one of my first posts, because I, like you, love vintage collections that are shabby and chic!
I quickly became a blogger on a journey to find beauty such as this...
and I wasn't disappointed!
I sometimes feel short on ideas of ways to decorate, and I find my blogging bliss in so many friends' "homes."
Lu Lu's fluffy Ruffles
and all of the other blogs on my favorite blog roll list!
I want to craft and share and my blog is my creative outlet!
Here's one of my early swaps (LOVE SWAPS) and my Dolly Dingle fridge magnet...
I want to learn a new craft and that's in my blogging universe too!
From furniture creations...
to fake cupcakes...
you dream it, someone will blog about it and inspire you!
Perhaps the best part of being a participant in this blissful blogging world have been the people who have inspired me and touched me in a profound way just for the spirit they are and how they share it with blogging friends through their blog.
Nie Nie
and her family has been the most inspirational for me, her courage in face of devastating circumstances, her love for God, family and friends, and her courage to continue on and to always find L-O-V-E in all parts of life!
I treasure my friends, new, old, and to be discovered that have blessed my life and my soul! Please head over to this inspirational blog at
Artsy Mama
to link to all the wonderful blogs and bloggers participating today!