Hi, Friends! I have SO much to share from my Cowgirl Art Retreat from this past weekend, so I'll share in stages throughout the week.
I thought I'd show you today the FABULOUS Fabric book that was part of a swap I participated in. It is just stunning! Our host
Valita
made the cover and the inside cover page for every book! She was a fantastic, patient host also!
I will share a few pages, but there were actually 11 pages total.
(I'll share more pages tomorrow too!}
I just LOVED the painted background and the blue buttons to represent the Texas Bluebonnets! Love it! It was made by
Heather Ales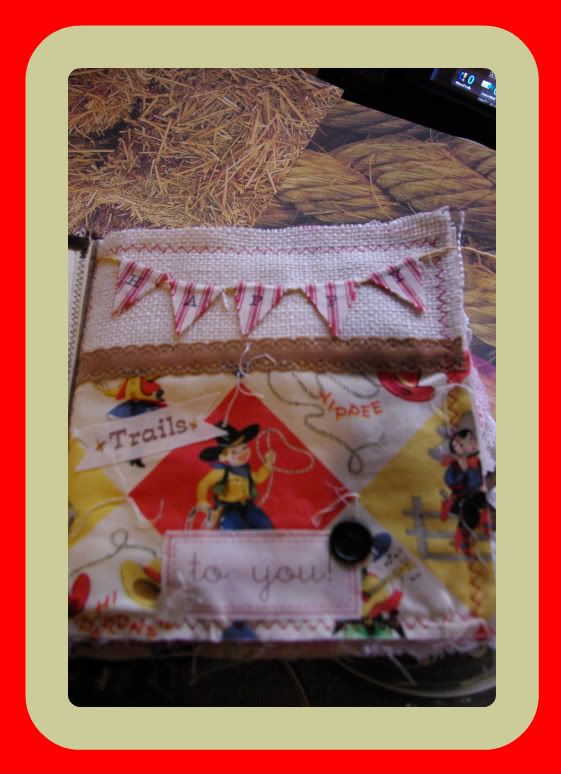 Happy Trails to You! So Nostalgic! The artist is
Shannon at Faith and Chocolate
This next page is fabulous too, and it's no surprise to me, as I had
Cheryl
as my swap partner with a Marie Antoinette swap and it was extraordinary, and she continues her legacy of being an artist!
There is a mini pillow in the pocket that says "But you can't take the cowgirl from her heart", so wonderful!
Next is the Alamo, which I'm sure you recognize by
Joanna at Sweet Finds
and it's just a wonderful rendition of the original!
Let's continue on with actually one of my pages I hadn't shared earlier with you, I had this vintage fabric in my fabric stash, and finally put it to good use! You can learn to make the "coochie" flower on my sewing blog over at
Suzie Button Sews (and not just a button)
This next fabric page is also a gorgeous homage to Texas bluebonnets and the artist is
LaVerne from Riverside Studios
and this is the backside of the page and on the front she has the most AMAZING Poem entitled "I first saw my first Bluebonnet Field" by
Cora Johnson Hill
whom was the first female Poet Laureate of Texas. This poem, according to the attached info card from LaVerne, appeared in "Flame of the Wind" published in 1930, the history was just amazing!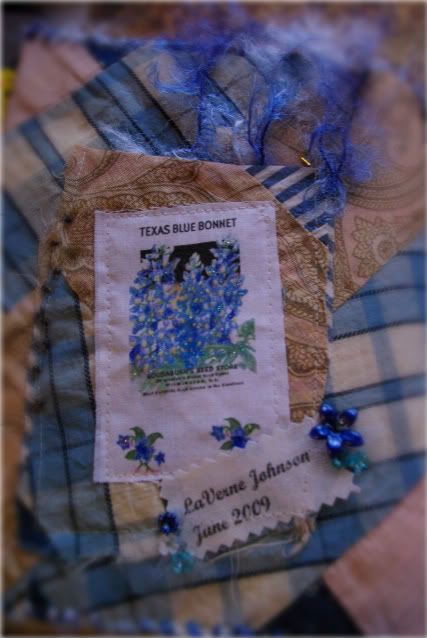 I saw my frist bluebonnet field today.
It took my breath away.
It was so blue beneath the Texas Sky
It made me want to pray.
And oh, I was so very glad to see
That beauty spread for me,
And infinitely pleased that God should take
Such trouble for my sake:
To let the old brown-crusted earth break through
With such strange heavenly blue
To let a barren field be frosted white
With such strange heavenly light
That would take the pink that dawns all wear
And let them sparkle there.
I watched that field upon my knees today
It made me want to cry.
Grace Noll Crowell